Discover the wines of Château Lafargue, a family wine property in the Bordeaux region, and a member of the Vignerons Indépendants union. Produced in the Pessac-Léognan appellation, our red and white wines offer a rare finesse and delicate aromas.
Château Lafargue white wine
Château Lafargue White Cuvée Alexandre
Made mainly from Sauvignon Blanc and Sauvignon Gris, this wine offers aromatic complexity, freshness, body and good concentration. It improves with age, enabling it to be served differently over the course of its life:
Young as an aperitif, or at the beginning of a meal with seafood, shellfish and various starters,
Mature, with fish and white meats,
and then older, with farmhouse cheeses.
Serve at 8 to 10°C when young or 12 to 14°C when mature
Ageing potential: 7 to 10 years, or more
Château Lafargue red wines
Made from a blend of Merlot, Cabernet Sauvignon, Cabernet Franc and Petit Verdot, this is a powerful, velvety, yet also delicate and refined wine. It improves over the years and can be enjoyed with meat and grilled foods, and then, as it ages, with game and farmhouse cheeses. It reaches maturity at around 6 to 8 years.
Serve between 16 and 18°C
Do not hesitate to decant when young to bring out its character
Ageing potential: 10 to 15 years depending on the vintage
Dauphin du Château Lafargue
The property's second wine, made from a blend of young vines and lightly oaked. A delightful expression of the terroir, it can be enjoyed in its youth with charcuterie and red meats.
Serve between 16 and 18°C
Ageing potential: 6 to 8 years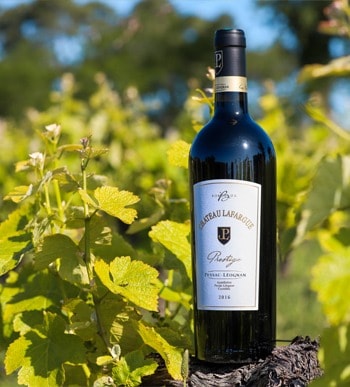 Château Lafargue Prestige
This cuvée, made from a selection of old vines over 40 years old which bring power, finesse and refinement, has a good capacity to improve with age, but can also be enjoyed in its youth.
Serve at around 16°C
Decant 2 hours in advance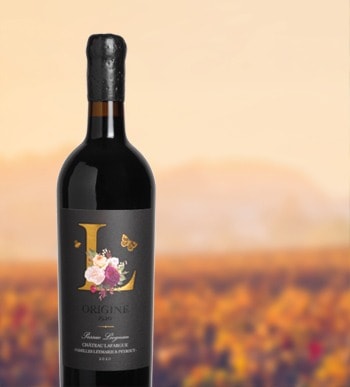 Château Lafargue Origine 1920
A blend of Merlot, Cabernet Sauvignon, Cabernet Franc and Petit Verdot with a dominant Cabernet Sauvignon, this cuvée celebrates the 100 years of the property in the family.
It is made from a very strict selection of the best rows of our best plots and is vinified entirely in 400L barrels.
Origine 1920 is a tribute to the women and men of the family who have made our property what it is today.
Origine 1920 is the signature of Carole, Lionel and their children, and their contribution to the family tradition.
Serve it between 16 and 18°C.
Great ageing potential for this exceptional wine.
Our red and white Pessac-Léognan regularly receive prestigious awards, serving as recognition of the meticulous care we take with our wines. See all our medals.
Would you like to buy our wines ?
You can order directly from our e.shop. You can also go to the property to taste and buy our wines or contact us for your shipments.